With help from his granddaughter Tea Joe, Gerald Hickman shares his love of Western U.S. history in Good Times in Old Genesee. It's a personal and historical recollection of Genesee, Idaho from a former resident, a trip in time to his childhood ranch and beyond, back to the pioneers, in the Genesee valley of North-Central Idaho. It's a visit to Old Genesee, a small community deep in the winter snows and summer grains where his family found a place for themselves. The book covers the period from the first settlers of the 1870s to World War II. It describes the natural history of the area, the early town, and the farming and country life of the early pioneers and those who followed, as engines replaced horses out in the fields.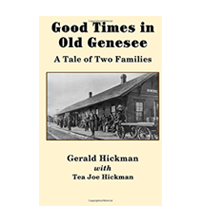 Goodreads Review -
A look back to the pioneer days in Idaho. From the Native Americans who lived here to the first settler/farmers, this nostalgic book covers the geology, natural history, weather/climate and history of the town of Genesee and the whole of Latah Coiunty.

Great historical photos make this a good read for anyone and it is a source of the development of farming/raching practices from the earliest days to the modern tractor and combines...
Excerpt -
from my book on the history of life in the Inland Northwest:
After working and saving his pay for several years working in the Lewiston area, Grandpa Robert Hickman moved to Genesee and established his Livery business. He would drive salesmen to the outlying towns and villages as far as Camass Prairie, Lewiston, Moscow and such places the drummers needed to visit.
The renting of hacks, rigs, wagons and buggies was more to serve the local residents. Grandpa could stable at least 50 head of horse stock every night if need be. The Livery included the barn with storage of feed (hay and grain), stalls for the stock indoors and a large outside corral. Need for Livery stable was replaced by personally owned automobiles, most of the livery business was for locals in Genesee area.
All these remembrances came the oral history collected by the Latah County Historical Society in Moscow when they interviewed Tom Platt and Dave Hickman.
Uncle Dave remembers that Sundown Jackson a Nez Perce bronc buster would come to Genesee for the annual rodeo. Sundown would hire Uncle Dave to warm up his horse each morning he was in town. Dave was "just the kid around the barn", as he put it. When the horse was limber, before the rodeo started each day Sundown would tie on a bucking strap and this tame and gentle horse would buck like crazy. When the strap was removed, the horse became as calm and well-mannered as he was early in the day when Uncle Dave worked him out.